Located in Mamaroneck NY, Anthony's Deli is a purveyor of fine Italian American sandwiches.
For over 20 years Anthony's Deli has stood as a place where you can get an overstuffed wedge for a fair price. We have been serving the Mamaroneck and Harrison areas since 1987.
The quaint neighborhood Italian deli gets its reputation from making big, fat sandwiches made with fresh ingredients and charging less than its competitors. "We have the fattest sandwiches around which gives you more bang for your buck, nothing skimpy here."
We make any sandwich possible. Try our signature breakfast sandwich "Breakfast Barge" to jump start your mornings ad guaranteed to satisfy everyone's appetite or our signature lunch sandwich "The Godfather" which people cannot finish in one seating.
"Come on in and give us a try I guarantee you will be back."
Phone
(914) 698-4998
FAX
(914) 381-2457
Location
619 Halstead avenue
Mamaroneck, N.Y. 10543
Hours
Mon-Sat 6:00am-7:00pm
Sunday 6:00am-4:00pm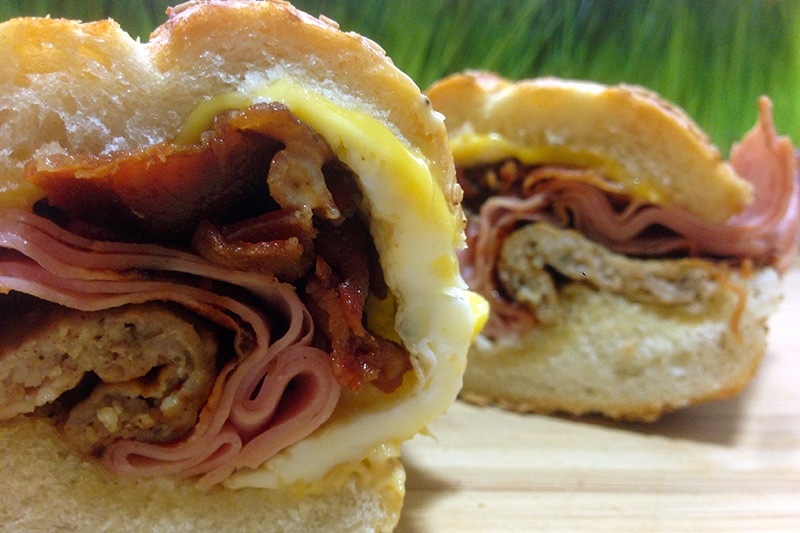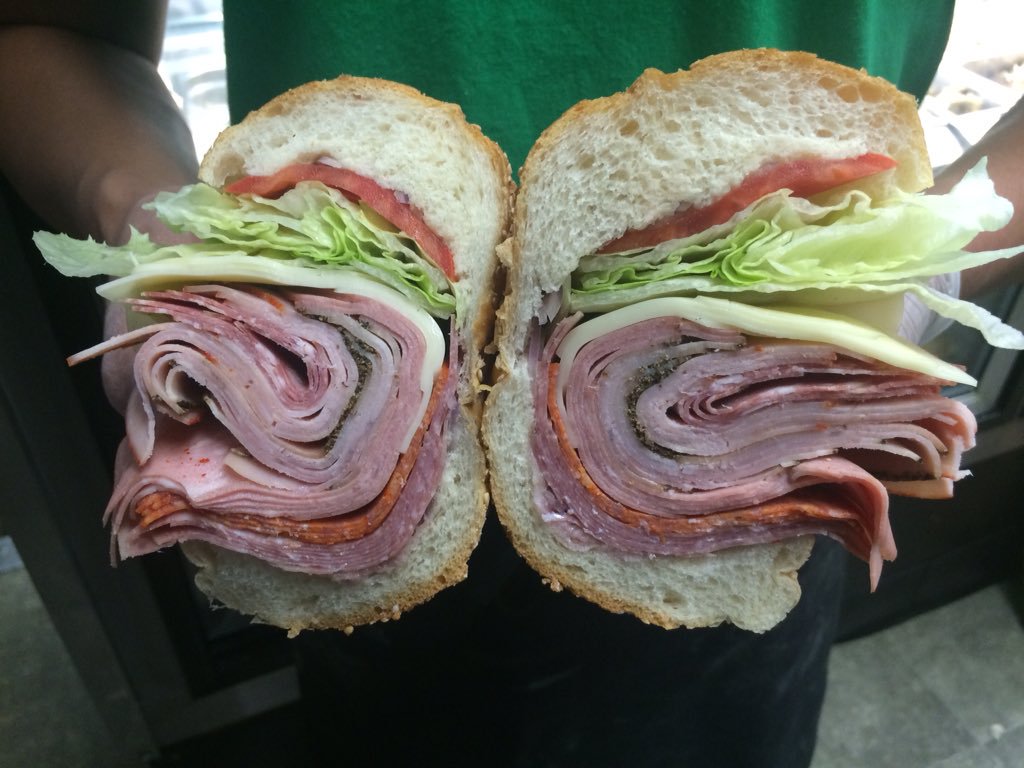 Served all day Incl. Hash Browns, Assortment of Bagels, Muffins, Donuts, Danish and variety of Coffee and Tea
BREAKFAST BARGE
Served on a wedge with 3 eggs, Bacon, Ham, Sausage and cheese
FRENCH TOAST
with butter and syrup with your choice of meat on the side
Eggs
Single, Double eggs (or egg whites) with your choice of Bacon, Ham, Sausage, Cheese, Hash Brown
DAILY HOT SPECIALS
MONDAY Baked Ziti, Fresh Turkey, Sausage & Peppers, Meatloaf, Hot Dogs
TUESDAY Manicotti, Grilled Chicken, Sausage & Peppers, Hot Turkey in Gravy, Boneless BBQ Ribs,
WEDNESDAY Lasagna, Roast Pork in Gravy, Boneless BBQ Ribs, Hot Sausage & Peppers, Cajun Chicken,
THURSDAY Stuffed Shells, Fresh Turkey, Pot Roast in Gravy, Grilled Chicken, Veal Parmigiana,
FRIDAY Salisbury Steak, Potato & Eggs, Peppers & Eggs, Fish Filet, Eggplant Parmigiana, Pulled Pork,
SATURDAY Sausage & Peppers, Grilled Roast Beef
SUNDAY Chicken Cutlets, Meatballs
SIGNATURE SANDWICHES
Served on bread of your choice white, wheat, rye, multi grain, roll, or wedge
ITALIAN COMBO salami, pepperoni, ham, provolone oil & vinegar, your choice of peppers
THE GODFATHER salami, pepperoni, ham cappicola, proscuitini, mortadella, sopresatta, provolone, lettuce, oil & vinegar, hot peppers served on Arthur Avenue italian bread
ITALIAN DELIGHT fried eggplant, fresh mozzarella, roasted peppers, oil & vinegar
AMERICAN COMBO ham, turkey, roast beef, swiss, lettuce, mayo
ROAST BEEF CLUB roast beef, bacon, lettuce, tomato, mayo
TURKEY CLUB turkey, bacon, lettuce, tomato, mayo
BLT bacon, lettuce, tomato & mayo
BALBOA roast beef, melted swiss & garlic dressing
SOUTHERN SPECIAL virginia ham w/melted swiss cheese & garlic dressing
HOT GOBBLER turkey, melted swiss cheese & garlic dressing
CHEF'S CHOICE turkey, pastrami, melted swiss cheese & russian dressing
RED HOT pepperoni, melted provolone, hot peppers & garlic dressing
PASTRAMI REUBEN hot pastrami, melted swiss, sauerkraut & mustard
CORNED BEEF REUBEN hot corned beef, melted swiss, sauerkraut & mustard
TUNA MELT Tuna fish & your choice of melted cheese
GRILLED CHEESE white bread with melted american cheese
PATTY MELT hamburger inside a grilled cheese
HAMBURGER single or double with bacon and/or cheese
VEGETARIAN DELIGHT american, swiss & muenster cheese, lettuce, tomato & mayo
VEGGIE WEDGIE peppers, onions, lettuce, tomato, oil & vinegar
CHUBBY CHICKEN chicken cutlet, bacon, ranch dressing & your choice of cheese
TEXAN chicken cutlet, bbq sauce, melted cheddar cheese and bacon
TRIPLE PLAY chicken cutlet melted american cheese and chili
INFERNO buffalo chicken, wing sauce, hot peppers, pepper jack cheese
PHILLY CHEESESTEAK grilled steak with cheese peppers and onions
CHICKEN ITALIANO chicken cutlet, fresh mozzarella, brushetta
SALADS/WRAPS/SIDES
House, Chef, Grilled Chicken, Buffalo Chicken, Potato, Macaroni, Coleslaw, Egg, Seafood, Chicken, Tuna, Olives, Stuffed Peppers, Mushrooms, Artichoke, Pasta, Fruit,
WRAP IT UP
Anything you want on our variety of wraps: Plain, Whole Wheat, Spinach, Sun Dried Tomato, or ask for our Chicken Caesar or Chicken Rice Wraps.
SIDES
Chocolate, Rice, Tapioca Pudding, French Fries, Onion Rings, Mozzarella Sticks
CATERING
We would love to cater your next event. Check out our catering menu and contact us to place your order.
*Party Wedges please place order 1 day in advance*
CHICKEN
• Marsala
• Parmigiana
• Lemon
• Scarparelli
• Scarparelli w/potatoes & Sausage
• Franchese
• Fried
• Chicken Fingers
• Sorrentino
PASTA
• Baked Ziti
• Penne Vodka
• Stuffed Shells
• Lasagna
• Manicotti
• Bowtie Pasta w/Broccoli Rabe & Sundried Tomato
• Pasta Primavera
• Tortellini Bolognese
• Fettuccini Alfredo
• Penne with Broccoli Rabe
Misc.
• Eggplant Parmigiana
• Eggplant Rollatini
• Sausage & Peppers
• Pepper Steak
• London Broil
• Meatballs
• Roast Pork
• Buffalo Wings
• Pulled Pork
• Spiraled Ham
2-6' PARTY WEDGES
• ITALIAN-salami, pepperoni, ham cappicola, mortadella,prosciutini, provolone, lettuce, oil & vinegar
• AMERICAN- turkey,roast beef, swiss cheese, lettuce
• CHICKEN CUTLET w/roasted peppers and fresh mozzarella
• FRIED EGGPLANT- w/roasted peppers and mozzarella
• GRILLED VEGETABLES- eggplant, zucchini, roasted peppers
PARTY PLATTERS
• Cold Cut- Italian/American
• Various Sandwiches
• Antipasto
• Vegetable w/dip
• Grilled Vegetable
• Cheese & Cracker
• Fresh Mozzarella & Tomato
• Assorted Cookie Tray